GE PTAC & Air Conditioning
Frank & Ron Hotel-Motel Supply, Inc is an authorized distributor for GE PTAC units.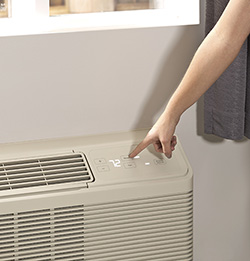 GE Zoneline packaged terminal room air conditioners are assembled in Louisville, KY.
In 1961, the GE Zoneline PTAC was making its way into hotels and motels across the country. Now, over 50 years later, GE Zoneline has been reinvented to meet the changing needs of America's hotel industry. The newest GE Zoneline PTACs are engineered with 30% fewer parts to be more reliable, quiet and efficient, and incredibly easy to install and maintain.
Click here to see full specifications of the new and improved Zoneline units.